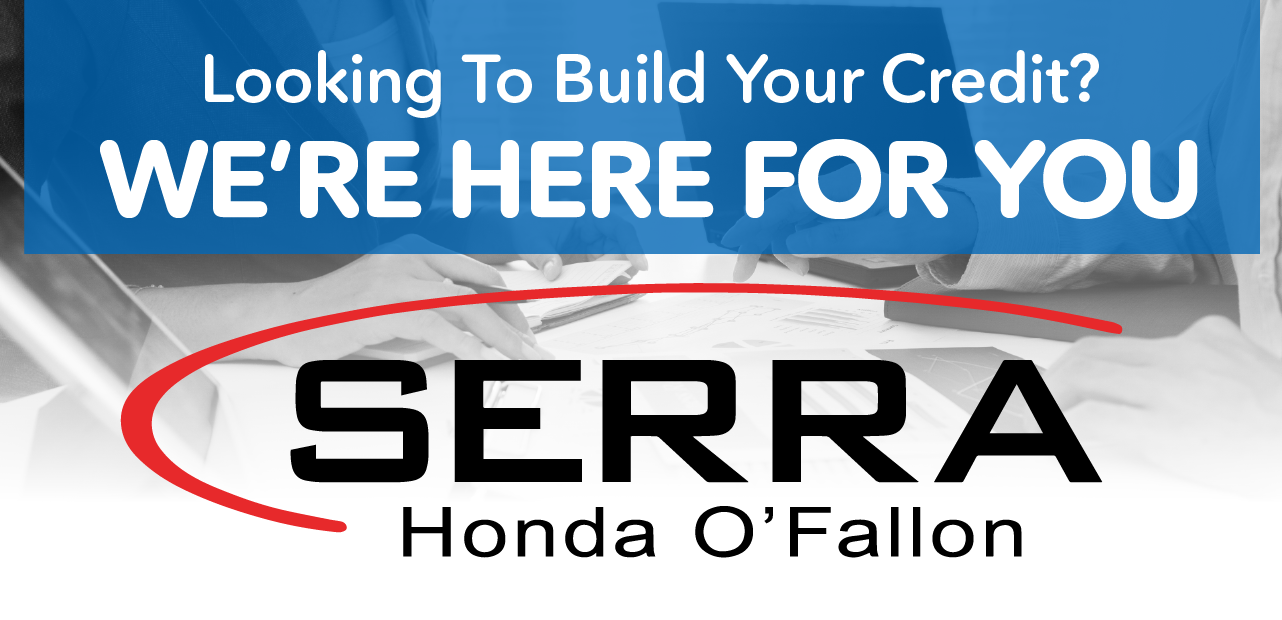 Can I Get A Car Loan If I Have Poor Credit?
If you have been struggling to get credit approval and are in need of an auto loan, it's time to turn to the credit experts at Serra Honda O'Fallon in O'Fallon, IL. We've helped shoppers all across the Fairview Heights, Collinsville and Lebanon areas get approved for auto credit despite having past financial setbacks. Our special auto lending team has seen it all and worked through it all. Divorce, bankruptcy and foreclosure issues are just a few examples of the situations we've helped our clients overcome.
How do we do it?
Serra Honda O'Fallon utilizes a regional and national network of lenders who specialize in providing car loans for customers who have experienced financial setbacks. These lenders look beyond a mere number or credit score in order to provide funding for the car, truck, van or SUV you want.
Need Auto Loan Approval Today?
The first step is to fill out our online finance application. All we need is a little information in order to begin securing loan approval on your behalf. We offer low credit auto loans on our complete line of new Honda vehicles, as well as our giant inventory of pre-owned models. Serra Honda O'Fallon is ready to go to work and get you approved today! Stop by our dealership located at 1268 Central Park Drive O'Fallon, IL 62269.
Auto Loan Help near St. Louis
If you have been repeatedly turned down for a car loan due to past credit issues, there is hope ahead at Serra Honda O'Fallon. Our Illinois Honda dealership employs a dedicated team of credit professionals who specialize in getting auto loan approvals for low credit customers.
Why Can't I Get Approved For Auto Financing?
There are a variety of reasons why you may have been turned down for financing. The important thing to remember is you are not alone! Millions of Americans have experienced setbacks that resulted in a negative credit situation. The Serra Honda O'Fallon Special Finance team is comprised of individuals who have years of expertise in this field. They can help you get financed for the new Honda Accord, Civic or CR-V you want and make the whole process fast and easy.
Every situation is different and that's why we recommend that you discuss your needs with one of our special credit professionals at Serra Honda O'Fallon. Just call (888) 714-6739 and ask to speak with a member of our special finance department. You'll be treated with the courtesy and respect you deserve while we go to work securing car loan approval on your behalf.
How Can I Get Credit Approval at Serra Honda O'Fallon?
The process for getting auto loan approval at our Honda dealership is simple:
Fill out our online finance application.
A Serra Honda O'Fallon special finance team member will contact you to discuss finance options.
It really is that simple. Serra Honda O'Fallon's special finance department will work with you to get the lowest possible interest rate on the car you want. If you are tired of hearing "no" at other dealerships, come see us today at 1268 Central Park Drive O'Fallon, IL 62269.