Honda CR-V vs. Honda HR-V: Which is Right for You?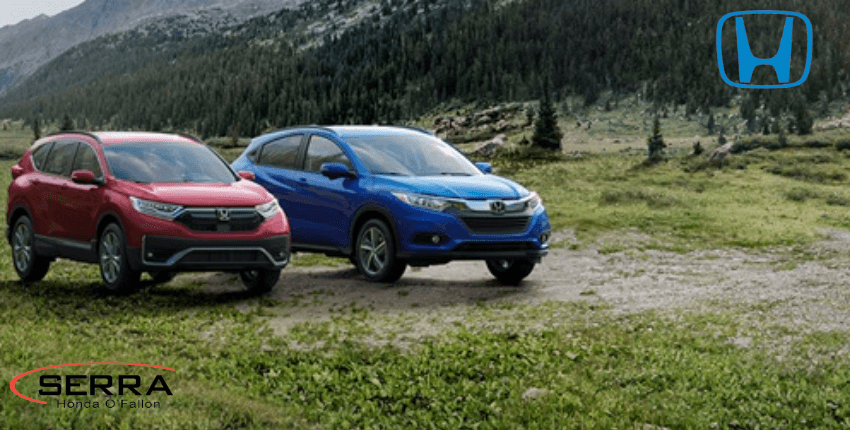 While the Honda CR-V is one of the top-selling cars in America, if you're looking for a small crossover Honda SUV for sale, you might want to check out its younger sibling as well. The Honda HR-V is a subcompact crossover with plenty of style and power on its more diminutive frame. Which is right for you? Let's take a look at both of these options and find out in this ultimate comparison: the CR-V vs. the HR-V.
Size and Cargo Space
The CR-V is a bit bigger than the HR-V in pretty much every dimension, including storage space. If you tend to pack more luggage for road trips or need more space for groceries, the CR-V, with its 39 cubic feet behind the back seats and 76 total cubic feet of cargo space, is probably better for you.
However, the HR-V still has plenty of space for stuff. With the second row of seats up, you can fit 24 cubic feet of gear in the back, or fold them down for 59 cubic feet of room for all your luggage, toys, or even pets. And with the comfortable upholstery options of both vehicles, you'll be ready to tackle any trip.
Performance
Both of these Honda SUVs use advanced continuously variable transmission (CVT) technology to provide power and fuel economy. Both crossovers get the same fuel economy – an EPA-rated 28/34 mpg city/highway – even though the CR-V is larger, mostly due to its more aerodynamic design.
As far as engines go, the HR-V has a 1.8L inline-four with up to 138 horsepower, while the CR-V has a 1.5L turbocharger producing up to 190 hp. Both vehicles have available all-wheel drive for extra power from a stop and better handling.
The CR-V is the more powerful option here, but if you want a smaller SUV that's easy to maneuver on streets and in parking spaces, the HR-V has the advantage.
Technology and Design
The base trims of both the CR-V and the HR-V provide decent technology features. Both come standard with Bluetooth connectivity, a 5-inch LCD screen, and a four-speaker stereo system. Available features for both SUVs include a bigger touchscreen, navigation, and smartphone integration through Apple CarPlay and Android Auto.
As far as looks go, the CR-V has had the more recent redesign, meaning it looks a little bit more modern than the 2021 HR-V. However, the HR-V still looks distinguished, with slim, chiseled lines, sleek headlights, and a well-designed, driver-centric interior. But if you want a modern, bold-looking SUV with plenty of space and available wood trim, the CR-V is the choice you'll want to make.
2021 Honda CR-V and 2021 Honda HR-V for Sale in O'Fallon
Honda hasn't made deciding between these two crossovers easy! In fact, you might just need to head down to Serra Honda O'Fallon today to take each one for a test drive. At the end of the road, the Honda SUV that's best for you depends on how you plan to use it: if you want a zippy car for drives around town, to work and errands, the HR-V is a sure bet. But if you regularly go on weekend adventures or carry stuff with you, the CR-V might be your car.
Whichever you choose, we have the new or used Honda for you here in O'Fallon! Our friendly staff is here to help you find your next car, whether you're near St. Louis, Belleville, Gateway, or the surrounding area.